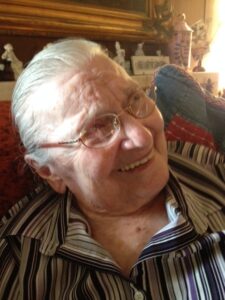 Mildred "Millie" Sielski passed on Sunday, September 5, 2021.
She was born in Huston, Pennsylvania. Eventually her parents and two sisters moved to Gary, Indiana. She met her husband Wally and the two married on May 24, 1945. Millie taught elementary art at Froebel for awhile until she became a homemaker and had two children. Along the way, she met many great friends.
Millie was preceded in death by her husband; Wally L. Sielski, daughter; Marcia Hoover, sisters; Jennie Smigiel and Martha Ignarski (late Stanley).
Surviving son;Lester (Donna Schwartz), grandson Matthew Hoover (Regina) nieces Stacie Reardon (Patrick), Elaine Zaboyan (John) nephews Stan Ignarski (Pam) and Philip Ignarski, best friend Genevieve Schiralli and Anita Burelli.
"Mildred, Millie, or Auntie Millie" as many knew her loved to paint mostly landscapes and still lifes. Her talent was extraordinary. She liked to mushroom pick while on vacation, often trekking through the woods in NW Ontario finding those delicacies. She also had a passion for antique collecting. She definitely will be missed by many who knew her. Her family meant everything to her. What an extraordinary life at the age of 103!
There will be no public services for Millie, however, a private burial will take place.
Donations to an organization of your choice or to the Humane Society, in Millie's honor, would be appreciated.