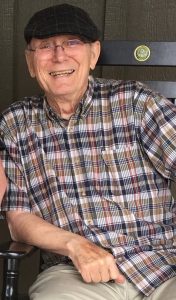 Dale Robert Spencer, 91 of Hobart, IN passed away Monday, June 13, 2022.
He was born on July 11, 1930, in Gary, IN to Leffert Russell and Ethel Marion (Borchert) Spencer.
Dale worked at US Steel for 47 years and was a dedicated husband and father.
Dale loved going to his favorite place, the city of Chicago. He shared his love of the city with his wife and family on many countless excursions including walking tours, numerous trips to the museums and to enjoy a lunch at the Berghoff; never missing an opportunity to jump in the car and head to Chicago.
Dale enjoyed a passion for photography which he shared with all the family that has transcended to many generations. Dale was a Master mason of the Hobart ML McClelland lodge #357 and a long-standing member of the Eastern Star.
Dale is survived by his wife, Sally Rogers Spencer; children Gary Spencer of Griffith, IN Robert (Patti) Spencer of Gary, IN Doug (Debora) Spencer of Las Vegas, NV Debbie (Richard) Mann of Goshen, IN Nancy (John) Grzych of Gary, IN and step-son Mark (Cindy) Rogers of LaPorte, IN; 11 grandchildren, 29 great grandchildren and 3 great-great grandchildren.
He was preceded in death by his parents, Leffert and Ethel Spencer; Step-son Mike Rogers and daughter-in-law, Cheryl Spencer.
He will be missed tremendously as we all loved him a Bushel and a Peck.
There will not be a scheduled visitation or funeral services at Dale's request.
In lieu of flowers, please consider a donation to the museum of science and industry
in Chicago at msichicago.org or Traditions Hospice 1229 Arrowhead Ct. Crown Point IN.